Yankee Valley Crossing, Your All-In-One Marketplace In The Heart Of Airdrie
Growing

Your Business In A

Growing

City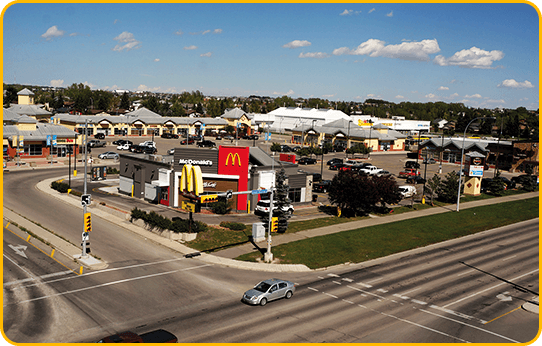 Yankee

Valley

Crossing - Leasing Opportunities Now Available!

If you are looking for a new home for your business, look no further than Yankee Valley Crossing in Airdrie. Located at the corner of Yankee Valley Boulevard SE and Yankee Valley Crossing, the shopping plaza caters to the needs of the communities of Airdrie and the surrounding area.

Grow your business alongside popular restaurants, education centres full of children and families, professional services, wellness clinics and more!

Call us at 1 403-250-5650 or fill out the online contact form to request a site visit.
Make Yankee Valley Crossing Your Home Today
Locating at Yankee Valley Crossing sets your business up for success.
Retail spaces, starting from 1,320 square feet and up
Competitive lease rates and low occupancy costs
Ample parking and signage
Great visibility from Yankee Valley Boulevard
Convenient access to QE2 highway and the entire City of Airdrie, North Calgary and surrounding communities
The community of Airdrie provides your business access to:
Canada's 2nd fastest growing community, with an annual population increase above 5%
Affluent community with a combined household income of over $115,000
Future expansion of the city by 1,100 acres and 4,500 homes
Your Next Success Story Begins Here
Yankee Valley Crossing is a one-stop shopping experience. The thriving shops, restaurants and personal services located in the center, ease of access to the surrounding communities, and generous parking make Yankee Valley Crossing a destination of choice in the city of Airdrie.
Call us at 1 403-250-5650 or fill out the online contact form to learn more about our leasing opportunities.